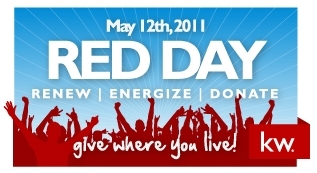 What is Red Day?
RED Day
(

R

enew,

E

nergize and

D

onate) is an initiative dedicated to celebrating Keller Williams Realty's year-round commitment to improving our local communities. Each year, on the second Thursday in May, tens of thousands of associates from across the United States and Canada participate in a wide range of projects, devoting their time to renewing and energizing aspects of the neighborhoods in which they serve.
This year our office is helping two cheritable non-profit organizations

I. MUST Ministries - Summer Lunch Program

What is this program all about?

There are currently almost 11,000 children living in Cherokee county who are eligible for a free lunch from the school during the school year. However, once school is released for the summer, many of these children are forced to go without lunch. Since 1995, MUST Ministries has helped to feed many of these children by delivering them a sack lunch Monday through Friday during the summer months. These Lunches consist of a sandwich, a juice box, and two snacks, one being more nutritious than the other.

The following items are needed for the Summer Lunches:

-Peanut Butter

Can donations other that lunches be made?

Yes, lunch supplies and gift cards to be used to purchase supplies can be used. Also, gently used toys and books that can be given to children are accepted. On Fridays, the drivers carry boxes of toys and books and each child receive one or the other along with their lunch.
II. Fairy Tale Endings


A non-profit 501(c)3 organization formed in Cherokee County, Georgia to assist teens in attending their school dances & proms with confidence by providing dresses, shoes, accessories and donated services such as hair and makeup for their special event.
They offer private fitting sessions where one on one each girl will pick out the dress of their dreams, shoes & accessories. Seniors will be able to get the hair & makeup done professionally.
Fairy Tale Endings will provide any teen all that they need when they book a private fitting session.
We have personal stylists that will assist the girls in finding their perfect dress and get prepared for their Special Prom event. Personal Stylists will be there to help direct them in what they may need and assist them in making their necessary appointments for hair, makeup and alterations if needed.
All services are donated and provided FREE to those in need.
The following items are needed:

-Formal Dresses of all sizes from 0-30
-Formal Shoes of all sizes
-Accessories such as bracelets, necklaces, earrings, perfume and purses
-Winter formal coats & long rain coats
-Gift Certificates, discounts to local vendors & donated services to assist the teens in making their day perfect.
-Tax Free Donations to help us with operating expenses such as obtaining clothing racks, hangers, garmet bags, dry cleaning services, sewing and marketing materials.

More information is available at
www.fairytaleendings.org/


Any donations can be droped off at our office or arrangments can be made for pick up. Call 770-474-2322 or email allen@kw.com.

Thank you for your support.

Allen and Stephanie